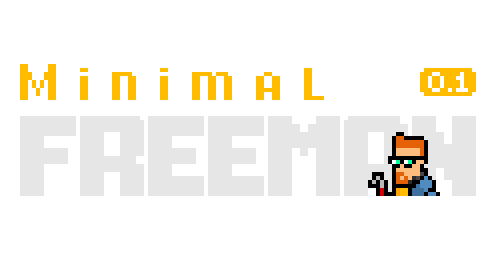 Minimal Freeman 0.1
Comments
Log in with itch.io to leave a comment.
Loved this game - Super fun! Thanks for making this and I look forward to future update!
I LOVED Half Life: Minimal Edition, and was ecstatic to see you're still working on it! I ran into an issue (that might've just been me being dumb) where when my ammo was fully depleted from the pistol, I couldn't drop it, change to my crowbar, really get more ammo or anything with it. Regardless, still lovin Minimal Freeman!
Thanks for the awesome video! Usually, It scares me to watch somebody plays my game because of the bugs and flaws in design. But your let's play made my day :D
The weapon can be changed with the mouse wheel. Or by numbers if you download 0.1.p1
Ayy, glad ya liked it! And thanks for the heads up on the weapons, I figured I was probably missin something somewhere :P
Fun game, excited to see it develop! Need to hide (lock) the mouse cursor. The mouse keeps running away from the screen (I have multiple monitors) and it clicks out.
Also, gamepad right analog support?
Thanks!
Oh, the cursor must be locked. But I did an additional check on unpause. Also, I added a right stick support and some other missing buttons. Haha, very unusual on the gamepad :D
Tasty jam. I'd love the parkour feel explored further.
Great to see your previous game jam leading to MF. Keep it up. The ending is enticing. :)

Hi, nice concept
I found some bug, and need to be done mouse lock in windowed mode
Hey dude, this game is neat, but could you make a mac version once you finish it.
I would totally buy this game for 5$!
Thx!
Hey, I had a play and did a video for you guys and I'll be honest, I'm a massive Half Life fan (I have the original disks)and I thought this was really good.I liked the style of the game. The idea of the orange books as secrets and the overall feel of the game.
I was really crap at playing the game but that was my fault becuase I was little tired (long day at work) but tomorrow is a different day. I really do want to venture further into this to see how it plays and has developed.
Thank you so much for this DEVS.

wobblyfootgamer
Thank you for the video and feedback!
Oh, I screwed up a bit, the boxes are almost invisible in the environment – you can find something useful in them (pistol ammo in a room at 1.5 for example). It can help : )